Something so lost in our society today is the ability to wait. We are so used to getting everything so quickly, with Amazon packages on our doorstep within 2 days of ordering, food coming right out of the drive-thru window within a few minutes with hardly any work on our part, and possibly the worst instigator of all in our inability to wait…social media, where everything happens in an instant. Even waiting in lines or being in traffic bores us to death or even aggravates us and gets our blood pressure boiling way quicker than it should. We've lost the art of waiting. So, it's no surprise, that when we have to wait for an answer or face big life decisions and we don't come up with a solution or find an answer right away, we struggle hard!
I've personally experienced this in my own life in many ways: waiting for high school to end, waiting to get my degree to start teaching, waiting for Ed to propose, then waiting for our wedding, then waiting to get our house, then waiting to fill our house with furniture…We are always waiting, waiting, waiting…which has led me to wonder, how do we wait well in times when we haven't yet gotten an answer or solution to a long-waited problem or question we've asked God?
In thinking of waiting, I was reminded of the story of Abraham and Sarah in Genesis. God told Abraham and Sarah that they would have a baby, which seems rational, except for the fact that Abraham and Sarah were old. In fact, because they were old, they had a hard time believing this could really happen or even be possible. The Bible says in Genesis 17:17 that "Abraham bowed down to the ground but laughed to himself in disbelief" when God first told him the news. We keep reading to find out in Genesis 21:1 that "The Lord kept His word and did for Sarah exactly what He had promised" and in 21:2 that "…it happened at exactly the time God said it would." By the time they had their baby, Abraham was 100 and Sarah was 90! I think it's safe to say that nobody would've thought they'd have a baby, but God does what He says He will do.
As I've pondered the question of how we wait well…I think that we're left with 2 choices…
Believe God and wait in PEACE for His timing. Continue to seek God's wisdom and guidance while you wait and try to find the joy and God in the waiting.
Don't believe God and live with worry, anxiety, and the danger of possibly trying to make things happen yourself on your own timeline which can lead to brokenness and hurt He never intended to be in your life.
So practically, what does waiting well and looking for wisdom or guidance look like then?? I think it's easy to read those two options and think okay, easy enough, but when put into practice and while in the midst of waiting, it can feel a lot more complicated than a simple option 1 and option 2.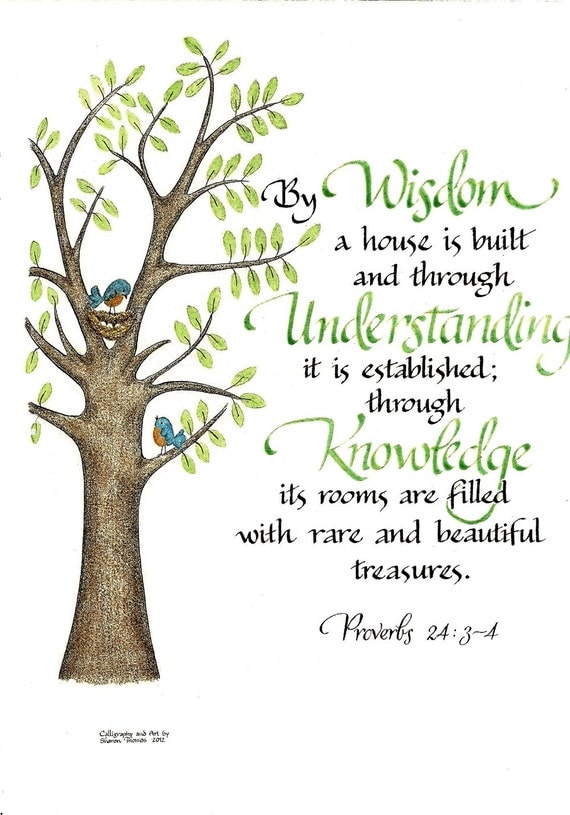 Proverbs 24 gives a clearer picture of how to do these things.  In verses 3-4 it talks about the idea that "By wisdom a house is built, and through understanding it is established."  So right away, we need to recognize that before we see or realize the whole situation (and even if we never do), we need to seek wisdom in order to "build our house", or in this case, make a decision.  Well, how do we do that?  Verse 6 says "…victory is won through many advisors".  We get wisdom in 2 different practical ways…
By seeking God through prayer and reading the Bible every day
By talking to people in our lives that we trust and love who can help us use discernment to make decisions
When we do these things, verse 14 says that "Wisdom is like honey for [us]: If [we] find it, there is a future hope for [us], and [our] hope will not be cut off."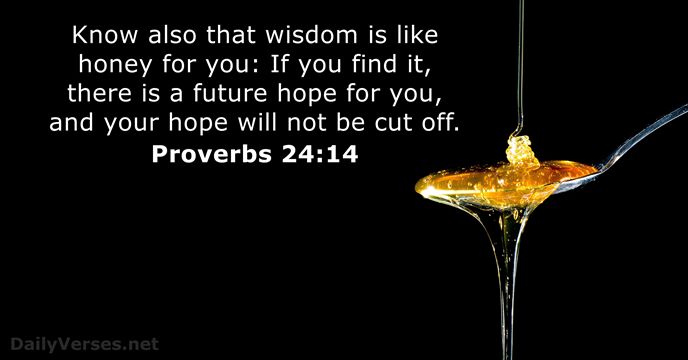 So first, we seek wisdom, then as we gain more wisdom, we begin to get a better understanding, which will eventually lead to knowledge and treasures as we see God's plans fulfilled within our lives…in other words, as we wait and seek God, He will slowly (but surely) give us wisdom, peace, and guidance on HIS timeline. We're able to wait and have peace while waiting BECAUSE of our relationship with God, our trust in Him, and because of our relationship with others who can encourage us, pray for us, and be a comfort…because let's be real…waiting is hard!
I think that one of the most important things I've learned in waiting is that as much as I wish it wasn't, the old saying I'm sure we've all heard is so true…good things take time.
At my best friend's wedding in which I had the privilege of being her Maid of Honor, my speech talked about her season of waiting before marriage. It was no secret to anyone that knew her well that she was so excited to get proposed to and married to her man that waiting became very difficult for her. In her waiting, she faithfully led a Bible study, sensibly called, "Wait and See". I joined her study even though at the time I wasn't really waiting on anything, but mainly just because I wanted to be her friend. We'd spend hours together after Bible studies sitting in our cars, dreaming of our future weddings, homes, kids, and anything in between…it probably didn't help the waiting very much now that I think about it 🙂 I treasure those heartfelt conversations to this day, and she is my very best friend for reasons just like that. She is real, honest, and a dreamer. Even with those conversations waiting was very hard. BUT, I can tell you that when her wedding day came (because it did!!!) it was such a joyful, beautiful day and I'd argue that it was BECAUSE there was so much waiting and anticipation around it. The waiting actually made it even more special and there was so much joy that could be found in the journey and in the fact that the moment was finally here. It was surreal.
I couldn't wrap this up without mentioning one more verse from Proverbs 24 which is pictured above. It says that "A righteous man falls seven times and rises up again; but the wicked are overthrown by calamity." As a follower of Christ, this verse is SO encouraging because we can know that we WILL fail in our waiting. We are human and we are so shaped by our society which idolizes everything happening in an instant. So, it's okay if you have a bad day, get so frustrated over waiting, or just find it plain hard to wait. The Bible says we will get back up, so give yourself grace!
The truth is, we will always be waiting for something or trying to make some decision, so the best thing we could possibly do is to learn to seek God in the midst of our waiting, to ask him for peace and guidance, and to surround ourselves with community and people who love us and can go with us on this journey called life.
So, let's embrace the art of waiting. Let's look to waiting as an essential part of the journey! You never know how God is growing you or using your waiting to draw you closer to Him. God wants us to draw near to Him and to trust that He will do what He said He would do. He is faithful and His timing is best…just wait and see 🙂